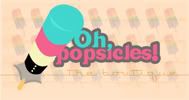 Their sold out item, Gladiator shoes is up for re-order again! Remember to check it out!
Here are some of their new stocks.. :)
Striped Cardigan with extended sleeve-end.
For a sexy tease, wear a lace tube or a low cut camisole inside!
Polka dots galore!
High waisted dress which is paired perfectly with a demure high neck top by Veronica in this photo.
Our personal favourite.. Vests can be paired with anything!
Singlets? Tubes? Office shirts? Lace blouse?
It's not clothes, it's an accessory!
Check all the new items out at
Oh! Popsicles
Oh! Popsicles online boutiques fashion