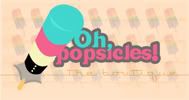 wear it fun
Oh! Popsicles is our featured online boutique today. Their selections are often

sexy with a touch of glamour and class!

If you see their blog, their clothes get sold out very fast! So those who are interested better hurry! They have cleared out so many of their stock that they even have a SOLD OUT page!
Not bad for a new online boutique!!

They have some interesting deals as well.

Free postage if you spend above RM 150 or bought a minimum amount of 3 clothes.

and 10% discount for Facebook members as well.
All the terms and conditions are clearly stated in their blog, I doubt you'll find your questions unanswered just by scrolling down the sidebar.
As the online boutiques' community in Malaysia is very close knit, you'll find that all of them support each other immensely. An example of this is they have 2 shoutboxes. One for inquiries and one for other boutiques to place their advertisements!


Here are some of the clothes that they have in their online boutique!

If you are interested in Oh! Popsicles click here to go to their online boutique!
Remember to quote BlushBerry ( we do not get commissions from the transactions, it just pleases us to know that we helped a business grow!)
Oh! Popsicles online boutiques fashion