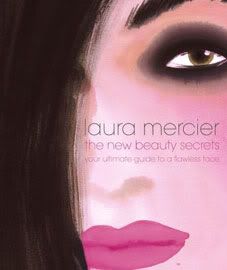 As we promised, we are announcing the winner of the Laura Mercier : The New Beauty Secrets,
Your Ultimate Guide to a Flawless Face now!
First of all, we thank everybody who has taken the time to be a part of this contest. I hope you girls didn't spend too much time cracking your head trying to find something good to say about BlushBerry!
We hope that you have enjoyed what we have posted so far cuz its just gonna get better!
If you did not win this time around, don't worry.. we have a surprise for you.. just read on!
The winner is..
..
Jocelyn!
"I think it is high-time someone sat me down and taught me the proper techniques to put on make-up. And who better than Laura Mercier (through her book)? I'm no stranger to Laura Mercier and have seen the amazing things she's done with make-up. I have always marveled how make-up can enhance and bring out the best in one's features. Unfortunately, I'm not one who's blessed with superb make-up skills. A friend once commented that I looked the same with or without make-up. Although I laughed the comment off, it hurt me deeply that my insecurity was known to others. That is why I would love to own this much coveted Laura Mercier book.
There is no doubt that BlushBerry is one of the up and coming make-up/fashion tips blog. All its positive points have already been mentioned. So on a personal level, I like it because it's so sincere. Every single post seems to be written from the heart, with the only hope of helping other women out there. I'm deeply touched by the author's sincerity in sharing tips. And boy, are these tips useful. It is not the usual run of the mill tips, but it's well-written, with great photos to show and easy to follow. What I like most are the tutorials using Asian women as examples because as someone who can't read Chinese but loves Asian fashion/hairstyles, this can be extremely helpful. And that's why I love BlushBerry."
But WAIT!!!
For other girls who had taken part in this competition, we are going to choose 2 more winners to get our consolation prizes.
Consolation winners and prizes will be announced this Wednesday.
CHECK BACK FOR OUR OCTOBER FREEBIE!
Its gonna be twice as good... *hint : we posted a review on that product before
Details will be up next week.
Congratulations Jocelyn!
Laura Mercier The New Beauty Secrets makeup cosmetics tips